An Integrated Place Marketing Environment addresses these missions:
Economic Development
City Visitors / Tourism
Chamber of Commerce
Lifestyles
Relocation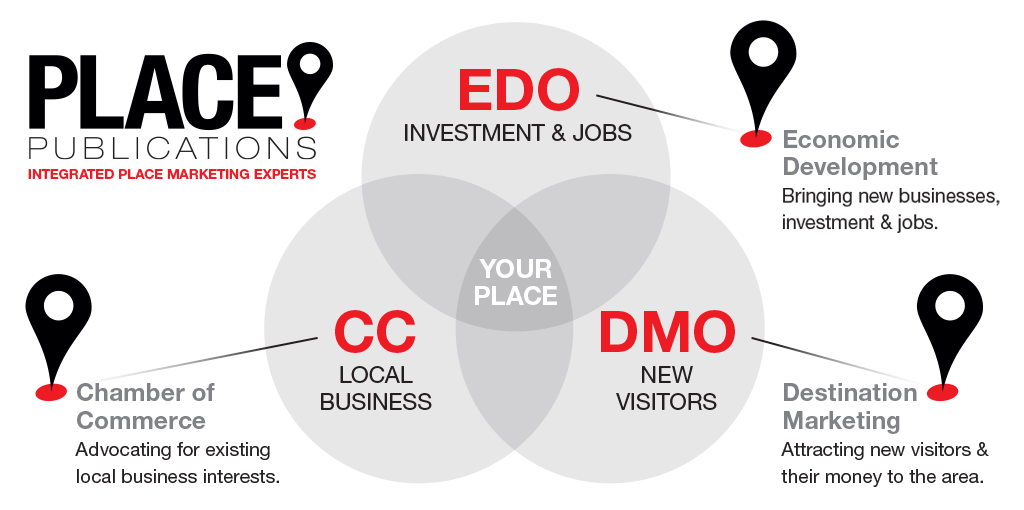 Signature Lifestyle Magazines

Our Signature Publications represent the needs and interests of the local communities they serve. Submissions from local leaders and residents, as well as our own work connect readers to businesses, events and even each other!


The 'Voice of the Community' in each local market. Our LIVING titles include topics on everything from local business interests to the home, pets, beauty, the great outdoors and more.
NOW titles are hyper-local, serving each unique community. Each issue features the various events and entertainment happening each month, providing readers an extensive overview of what is happening and showcasing the local businesses in our community.

Healthy Living titles promote everyday healthy living. Whether it is bird-watching, hiking, kayaking, yoga in the park or gardening – each issue aims to highlight the many avenues to health available to the community. Every edition features a variety of ideas to stay physically and mentally fit organized into three categories: Play, Renew & Nourish. A variety of topics are explored including women's health, heart health, nutrition, mental health and more.


Luxury Living celebrates all the things that make our lives richer. Issues feature sections on Home, Design and Lifestyle. These categories shape our content in each edition as we cover & explore the hottest trends, products, and companies in the world of architecture, interior design, real estate, golf, beauty & wellness, travel and more!
Visitor Guides

We work with communities to spotlight what makes their places so special, to attract visitors or to inform those already there about the "can't miss" sights just steps away from where they are.
Economic Development Guides


We collaborate with local leaders using extensive research and data collection to highlight the positive metrics that drive employers to launch, relocate or expand operations to your place.
Chamber Directories

These annual publications provide a common reference for your place's businesses, officials, visitors and residents about local commerce and industry, government, history, events, schools, health care and more.
Welcome & Relocation Guides

ROX Media's Welcome & Relocation Guides provide information to make the move to a new city easier. Guides include a profile of the community, economic benefits, climate, housing, education, community services, health care, history, area attractions, day trips, important numbers, accommodations and more! 
Hardbound Annual Books

ROX Media's annual hardbound showcase books give readers a comprehensive overview of a place's communities, amenities, history, businesses, traditions, events and spectacular scenery courtesy of the lavish images supplied by its best amateur and professional photographers.
ROX Media's Custom Publications team plans, organizes, designs, writes, edits, prints and distributes over 2 million copies of custom publications every year for our marketing partners.
Our publishing expertise coupled with our experienced creative services team can take any client's dream of launching a custom publication and make it a reality. We can work with your company, municipality or nonprofit team to create a theme and develop content for your publication, and we can even sell sponsorships and advertising to offset your costs.
Finally, through proven distribution models, we will ensure your publication reaches your key audiences in the most cost-effective manner. This includes placing your publication online, creating a microsite for your publication and implementing digital campaigns to drive readers to your site. We're your full-service partner from inception to completion of any custom publication.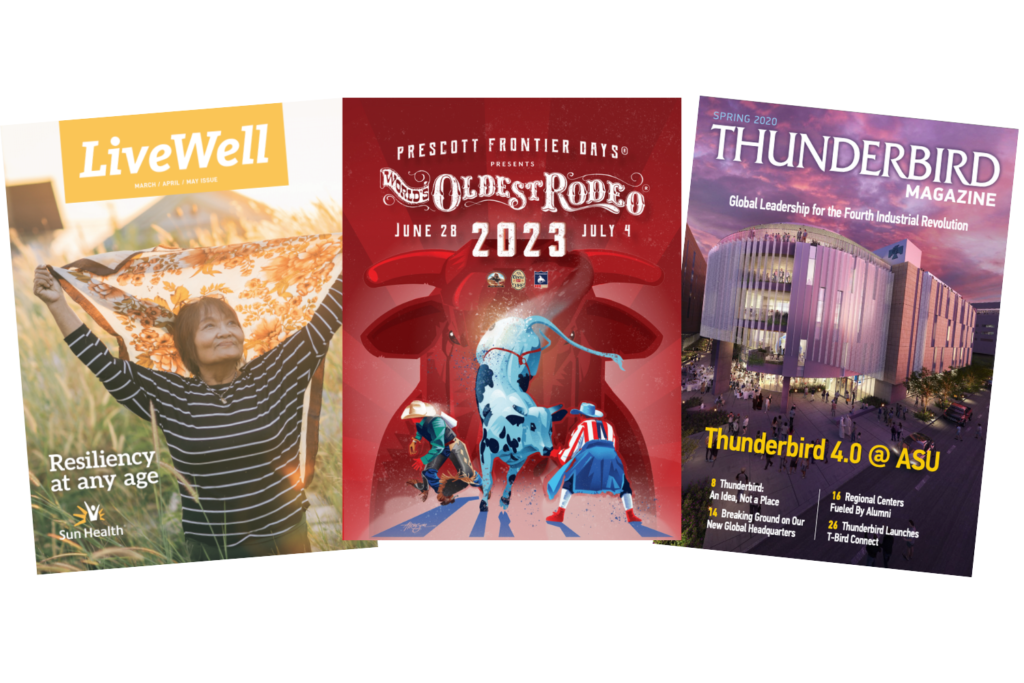 You know your brand and the key audiences you want to engage.
We will help you reach them!
Our custom publications are fully scalable and able to be tailored to meet your organization's unique needs. 

  Frequency: We offer everything from one-time publications such as guides, manuals and corporate/benefit reports, to regular monthly magazines – and everything in between.

  Specs: We offer a variety of sizes, bindings and page counts as well as various paper stock and can even include special insertions and/or overruns such as donation envelopes, community benefit reports or smaller publications within the larger publication.

  Design: Our creative services team can assist with everything from professional photography, content writing, creating themes and sections and overall design and layout. We can do this through using your existing brand standards or even creating new concepts for your organization.

  Distribution: Whether through direct mail (labeled or saturation), racking or online/digital (or a combination of all three!) we can help you reach your key audiences in the most cost-effective manner.

  Expanded Digital Reach: Through microsite creation, social media platform management, e-newsletters, blogs and digital advertising campaigns, we can expand your reach well beyond your print distribution and engage with more of your target audience.

  Advertising & Sponsorships: Our experienced in-house sales team can sell advertising and sponsorships on your behalf to assist in offsetting the costs of your custom publication.
Whatever your graphic design needs, we can make it happen. Our services include logo design, business cards and stationery, brochures, flyers and more.
Business Cards • Letterhead • Advertising Layout • Brochures • Flyers • Inserts • Tri-Folds • Custom Magazine & Specialized Direct Mail • Postcards • Trade Show & Promotional Items • Special Event Tickets & Invitations • Banners • Wall Decals
Think ROX Media For All Your Business Marketing & Printing Needs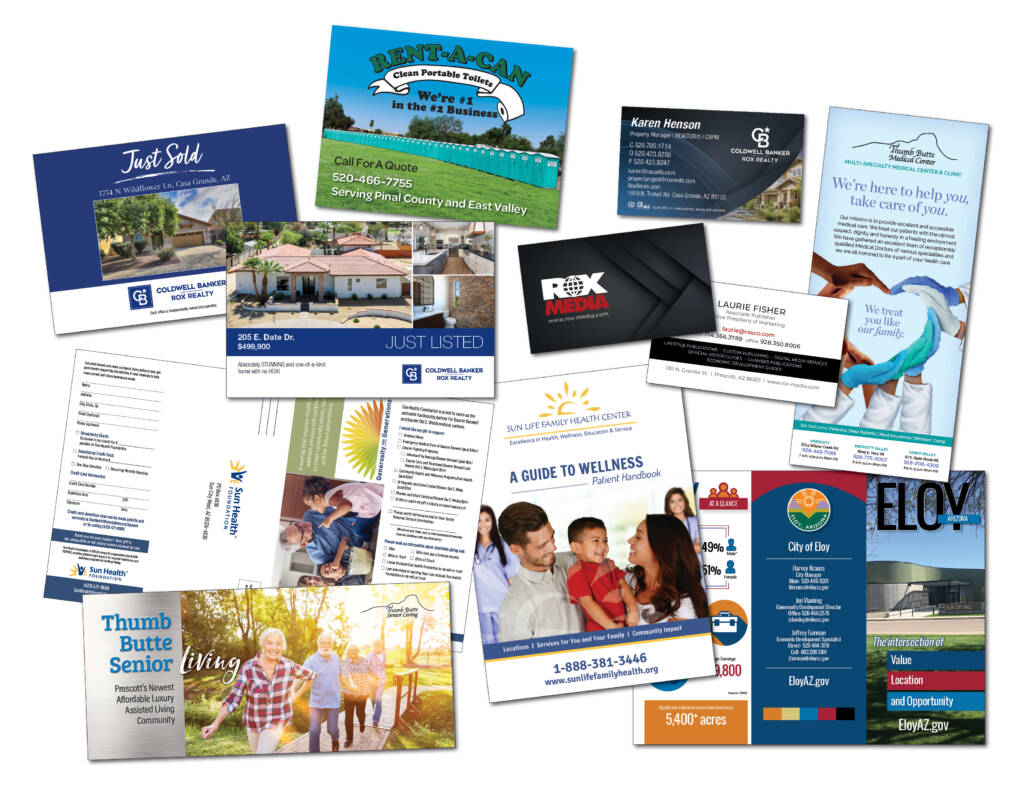 Why choose ROX Media?
Experienced: We bring a team of seasoned publishing industry and creative professionals to every project and can ensure timelines, quality and budget are closely managed to meet your goals.

Local

: As a local vendor and mid-sized publishing company, we provide one-on-one support and can act as an extension of your own team. Large or small, every project is our priority.

Cost Effective:

 Our volume of publications produced annually allows us to obtain extremely competitive print pricing, and our ad sales and sponsorship offerings can help offset these costs.
Contract Services
ROX Media is uniquely positioned to provide quality, on-time contract services for our marketing partners. We can create and manage custom turnkey projects of almost any size and scope.
Contract Services Provided:
Consulting

 

Content Creation
Cross-Platform Marketing
Design and Layout
Photography
Printing/Distribution
Project Management
Public Relations
Social Media
Website Creation/Maintenance